Why Study in the Netherlands?
Higher education in the Netherlands is subsidized by the government and helps to keep tuition costs below that of the main study abroad destinations - USA, Australia and the UK. The qualifications will boost you career prospects as well as show you as an 'out-of-the-box' thinker for choosing a less well-known destination.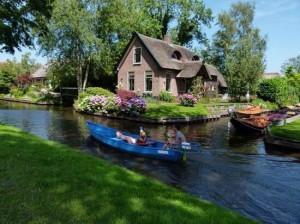 Why is the Netherlands also called Holland?
The Netherlands is often referred to as Holland. Nevertheless, the official name of the country is the (Kingdom of the) Netherlands. TheNetherlands consists out of twelve provinces. Two of them, North and South Holland, are the two provinces that together make Holland.
FACTS ABOUT HOLLAND
• The Kingdom of The Netherlands is a country, situated in Western Europe
• Official language is Dutch language.
• The Netherlands is a world leader in the field of art and culture.
• The port of Rotterdam is the largest in the world and Amsterdam's Schiphol Airport is amongst the world's busiest points.
• Situated in the midst of Europe Holland creates favorable possibilities for the journeys through the countries- neighbors. Paris, London, Berlin and Brussels are located in the hour of flight out of Schiphol.
• The Netherlands a developed industrial country of high technologies and the intensive agriculture, oriented for the export. Economically stable Holland, often named a centre of World Trade, is the place for the business activity of many international companies.

Cost & Living in Holland.
The currency in the Netherlands is the Euro (€). The expected cost of living is approximately €800-1,100 a month for a student lifestyle.
Discounts for students are available on many leisure activities and transport costs can be reduced by buying a discount card for rail travel. You are advised to split your funds into three equal amounts:
1/3 on housing
1/3 on food and sustenance
1/3 on transport, leisure and study materials.
Working while studying in Netherlands:
You are permitted to take up full-time work from June to August, or work part time for a maximum of 10 hours a week .
Working after Graduating in Netherlands:
International students who obtain a bachelor's or master's degree can spend a period of up to 12 months to find a job as a highly skilled migrant. Called the 'search year', this is the time given to graduates to look for a suitable job in the Dutch market.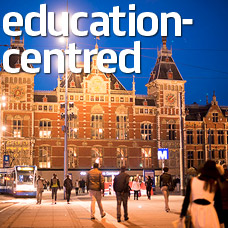 Courses in Holland:
Intake:

 

February 2016

Deadline:

 

15

th

November 2015

Application Fee: Nil

English Requirement: IELTS not mandatory

Tuition Fees: 6000 Euro to 8000 Euro per year (Depending upon the program)
1. Preparatory course (5.5 to 6.0 bands)
2. Bachelor in International Business and Management Studies (IBMS)
3. Bachelor in Information & Communication Technology
4. Bachelor in Mechanical Engineering
5. Bachelor in Mechatronics
6. Bachelor in Engineering Physics
7. Bachelor in Electrical & Electronic Engineering
8. Bachelor in Industrial Engineering & Management
9. Bachelor in Physiotherapy
10. Bachelor in International Marketing (IM)
11. Bachelor in Logistics Management Engineering
12. Bachelor in International Business Economics (IBE)
13. Bachelor in International Fresh Business Management
14. Master in Business & Management
15. Master in International Logistics / Procurement / Supply Chain Management