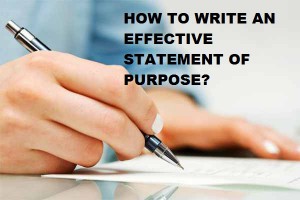 Gaining admission to a reputed overseas institution of your choice is no Child's play. A well written SOP or Statement of purpose submission goes a long way in ensuring that coveted offer letter.  SOP being a self written document, submitted to the institution, reflects the overall character of the student and can make or mar his/ her prospect of getting an offer letter. A little effort from ones part along with proper guidance, knowledge about the purpose of this document can help one come out with a winning statement of purpose.
THINGS TO KEEP IN MIND
1)  Be original to the core
Your SOP should present your original self.  Be original in your presentation, copying someone else SOP can only spoil your chance as an SOP that gets offer letter for some ones else may not work in your favor.  Though honesty is highly appreciated, being superfluous is not recommended. Admission officers are seasoned professions who will see through if your try to outsmart them, so stick to the original and you will surely clinch the offer letter.
2) Show genuine interest in the institution you are applying
Template SOPs can be real spoilers.  So, even if you're applying to many institutions at a time, make sure the SOPs are differently written and according to the institution and program, you are applying for .Mention, how you intend to gain from the program offered?  How it will further enhance your current qualification?, Your future job prospects etc which will convince the admission officer that you are genuinely interested in gaining admission to the particular institution and  not making education as a pretext to move abroad.
3) No essays please
SOP is no place to exhibit your writing expertise.  A SOP need not be in flowery language it need only be in simple English. You would have ample opportunities to write in epic proportions once you have gained entry.  Remember that you are writing to the admission officer who might be reading hundreds of SOPs and hence don't have the time and patience to read it all. So as far as possible, make it simple, clear and concise.
4)  Proof read
Writing a SOP can be time consuming but it is worth it.  Read it umpteen times so that you can come out with amendments. Look for spelling mistakes, punctuations, grammatical mistakes etc, as an error free SOP is the best way to impress the admission officer.
5) Get your SOP reviewed
Getting your SOP reviewed by someone else is the best thing to do as they might be able to find out flaws you might have overlooked and can give you feedback about how convincing your SOP is and how original it sounds. Though not experts, they might be able to come out with a point or two, you might have missed.  So leave your ego apart and get the stuff reviewed.
Contrary to what many students believe, a SOP is not an expert's job, it is something that can be done with a little bit of practice and guidance.  Getting it written by someone though, might spare you the trouble, can have disastrous consequence.  Be very clear that, as far as your admission is considered a template SOPs receive very little leniency from the part of Admission officers.
Still have concerns,  contact Santa Monica study abroad, your trusted overseas education consultant with over 13 years of experience with association across 10+ countries and over 200 universities/institutions of repute with services ranging from Colleges short listing to application submission, liaising with Universities, visa guidance, scholarship assistance, financial aid, education loan assistance to pre departure and post landing assistance.  Please feel free to reach us on0484 -4140999.