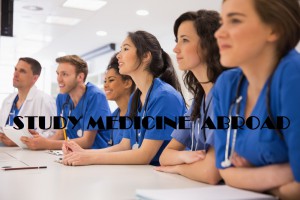 Becoming a doctor is a dream for many a young men and women, looking for a profession that is among the most respected, financially rewarding and attractive career choice in India. However the stark reality is that medical institutions in our country do not have the capacity to admit even 1/3rd of aspirants. The lucky ones, who manage to secure admissions often, complete their studies carrying huge financial debt.  All this at a time  when there  is a huge shortage of doctors in India, which according to the Parliamentary Standing Committee report on the Medical Council of India clearly states that perhaps there is only one doctor available for 2000 patients. http://www.ima-india.org/ima/left-side-bar.php?scid=492, an alarming figure when the WHO mandated ratio is 1:1000. The mammoth shortfall of doctors is not limited to India. If one takes the WHO figure; the shortfall of doctors throughout the world is huge. Countries like United States, UK, and Australia also face a huge shortage which would reach alarming proportion by 2020.
Given the tougher entrance requirements and subsequent cost factor involved, a growing number of medical aspirants are exploring options of studying Medicine abroad. Though USA, UK, Canada, Australia, New Zealand etc remain the first choice of students and parent seeking world class medical studies abroad , one should be realistic that it can be extremely challenging in term of time, fees and intellectual effort though the reward for the same is a flourishing medical career. Moreover to get admission in institutions of these countries, students have to undertake the Admission Tests. The UK Clinical Aptitude Test (UKCAT) or the Biomedical Admissions Test (BMAT), Graduate Australian Medical School Admission Test (GAMSAT) or MCAT (North American Medical College Admission Test and so on.
The Growing trend
   Cost effective MBBS/MD at world class universities of Europe and South East Asia
Several top notch medical institutions in  Europe and South east Asia are opening its door to Indian students for medicine studies, where medicine education is not only economical, the entrance  requirements are also less cumbersome, notwithstanding the excellent education system  and infrastructures that are truly international. Many European countries like Bulgaria, Ukraine, Russia, Hungary, Poland Armenia,  Latvia ,Lithuania, Denmark  and  Countries such as Philippines, China, Malaysia  have gained reputation  as  credible  overseas medical study destinations  with  many of the institutions  being  listed by WHO, IMED and other international medical bodies. There are a few good institutions in these countries that provide excellent world class facilities for medicine studies with advanced infrastructure and facilities, easy availability of cadavers for studies and clinical placements in hospitals. An Indian student on successful completion of course will have to appear in the MCI screening test for gaining registration which is mandatory for practicing in India
    What makes Medicine studies abroad attractive?
Earn Medical degrees which are highly rated all over the world.

Course curriculum  updated regularly as per inputs from latest research
State of the art infrastructure and  laboratories based on cutting edge technology (High tech laboratory facilities like Robotics surgery high fidelity human clinical simulator etc)
Multicultural environment with students from diverse nationalities
Fully fledged multi specialty hospitals for clinical practice
World class learning resources and highly experienced academics engaged in high end research
Highly applied teaching methodology with patient centered clinical training
Get placed in worlds best hospital and research institutions
Eligible for competency exams conducted by medical councils across the world
There are many medical institutions that cater to international students however, the onus lies on the students to identify the genuine institutions thorough fair bit of research and by seeking reference of earlier pass outs. It is always advisable to seek guidance of credible overseas education facilitators with strong experience in the domain.
Santa Monica overseas medicine studies division, the most trusted name in overseas education is here to facilitate admissions to students seeking admission to leading medical universities in developed medical systems such as USA, Canada, Australia, New Zealand, UK, Europe and South East Asia at affordable cost. Our experienced and well informed medicine education experts provide unbiased and accurate information about medical education that fit your budget.For more information visit your nearest branch of Santa Monica Study Abroad or call us on 0484-4140999.