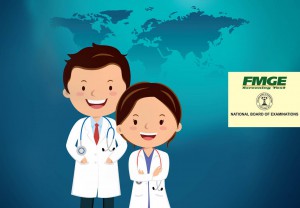 Representative Image-   image courtesy Google
Back home after an enriching medicine studies phase abroad?  So far excellent but the most crucial step lies ahead, which is clearing the foreign medical Graduate exam which is a licensure exam conducted by Medical Council of India through the National Board of Examinations (NBE) which is mandatory for citizens who have a primary medical qualification of any medical institute outside the country and want a provisional or permanent registration with MCI or any state medical council. The FMGE consists of a single paper, comprising 300 multiple choices questions, delivered in two parts, of 150 minutes each, to be taken in a single day.  Scoring a minimum of 50 % marks is required to clear this exam.
In spite of having secured top notch Medical education abroad, one is required to prepare for the exam with the same intensity shown during ones medical school days as there is no room for complacency at this stage. Let us discuss certain simple tips that would aid in your FMGE exam preparation.
Knowing the syllabus in depth is half the job done, as only a well targeted intensive study is going to yield desired result. Give equal importance to all the sections and avoid selective study at all cost Make sure you cover the entire syllabus. Do not pay heed to shortcut study methods like concentrating only on certain areas from where questions are expected, this is a type of gamble you cannot afford to take at this juncture.
Though ample numbers of books are available in the market there cannot be an alternative to making own notes as these notes are your quick reference guide.  When exam preparation reaches its peak, one will not have the luxury of time to read entire portions. Moreover these small notes prepared after intensive reading sessions comes handy during revisions.
Concentrating only on areas where you are strong and ignoring portions which are tuff and uninteresting and leaving it for the last minute is a fatal folly that many students commit.  This can affect ones strike rate and can make the difference between success and failure.  Identify areas where you feel your will not be able to score well under present situation.  Devote ample time studying this area, as leaving things to chances is not going to work in your favor. Remember that every singly mark counts in the end.
Be consistent in your revision
Revising the portions in a regular manner is important in ensuring that one is able to retrieve the information at the time of exam. The more you revise, better the chance of information getting imprinted in your memory. Since a huge volume of information is processed it is always desirable to go back and read the main points once, twice or thrice as time permits. Make sure your study pattern is in such a way that you have enough twice of completing at least two to three rounds of revision.
Attempt maximum number of MCQS
However hard you have studied, attempting an exam is a different ball game altogether which requires precision and speed to score well.  Attempt maximum number of MCQ questions from the portions which will give you a clear idea of the nature of questions one is likely to face and gives you a fair idea where you are scoring high and areas where you are losing out. This can help you not only improve your speed but can also help remedial measures to strengthen your weak areas .The more the number of practicing MCQS,  greater would be the chance of scoring high .
Mock tests are great ways to check where you stand in terms of preparation. For those who have enrolled at a coaching centre mock test are a regular feature one should utilize to the optimum level.  There are many websites offering free mock tests where you can register with your email id and attempt a test with set time period.  It not only gives you a feel of attempting the exam but also tests your speed of attempting and gives you real time feedback as to how to improve your test taking under time constraints.
Refrain from using too many study resources
It is a wrong notion that larger the number of study material referred, greater the chance of scoring high, this is a fallacy and on the contrary will leave you confused and disoriented.  Make sure you use books by authoritative authors Do not make it a habit to change your books depending on feedback by friends or info that trickle in every now and then.  Remember, there is no book that guarantees total success it is how you utilize your limited study resources to your advantage that counts.
When it comes to success there can never be a short cut to hard work.  A well channelized effort when followed in a consistent manner is sure to yield result  So  stay positive, give your best shot  Success is not far behind.
Have  more queries?  feel free to contact Santa Monica Medicine studies Abroad  your trusted overseas medical education facilitator, representing  reputed Medical universities across the Globe. Reach us  on 0484-4140999 or visit our nearest office.