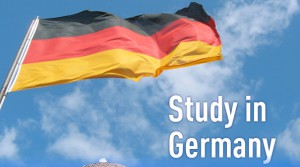 Representative image
Ever wondered why year after year hordes of young sharp brains from different nationalities flock to German universities for their higher studies, well with a  history of offering world class education spanning across centuries the reasons are sure to be  plentiful  Let us have a look at few of them here.
The quality of Germany higher education system is evident from its consistent top positions in world education rankings. The superior quality of education offered with industry centric courses and excellent scope for research with focus on practical's; ensure that employers  across the world rate these qualifications very highly.
Cost effective study destination
A vast majority of German universities and colleges on account of being financed by the state do not charge any tuition fees. Though there are plans at introducing tuition fees for International students with regard to affordability, Germany would still remain your best choice in Europe considering the quality aspect. The cost of living also remains considerably low with special discounts and students benefits or food, lodging transportation etc making Germany an affordable study abroad destination.
Endless option with regard to institutions and programs  
With more than 300 higher education institutions across the country, offering over 10000 programs in diverse streams ranging from arts, science, Engineering, IT etc gives students endless options to choose the university and program of his liking.
Scholarships and financial support in plenty
German educational institutions are known to nurture talent by offering various scholarships and financial support for the deserving students with merit being the sole criteria. So if you are a hard working student, exhibiting overall excellence in studies, finance can never come in your way of pursuing studies abroad.
A great opportunity to experience rich Germany history and culture
Germany is not all about studies it has lot to offer to those who have a penchant to explore its rich history and culture. There are number museums, particularly those that specialize in art and history that tells the story of Germany its history that includes the two world wars which changed the course of history  In Germany one does not see history,  in fact one lives.
To study in Germany, one need to know German is nothing but an archaic notion.  German Universities and colleges with the intention of catering to International students have ensured that most programs, where international students seek admission; the medium of instruction is English. positive news to students across the world who were deprived of Germany education due to the language barrier.
Excellent job opportunities
Germany being a country with a strong economy with key sectors on an upward growth trajectory, offers excellent job opportunities to students post study. During studies an International students can work a total of 120 full or 240 half days per year which apart from helping one earn a tidy amount can help to gain valuable work,  that would come handy in Securing a high paying job in Germany It is an highly encouraging fact that about 50 percent of international students who complete their studies finds  job in Germany which means embarking to study in Germany will not only get you world class education but also can pay way for a secure career.
Decided on studying in Germany but do not know where to start,  leave it to Santa Monica study Abroad Pvt. Ltd your trusted Overseas educational consultant Cochin with over 15 years experience in facilitating admissions to Germany institutions is  here to help  you  pick  that  perfect Germany University / colleges that suits  your career goals. Feel free to visit your nearest office of Santa Monica Study Abroad Pvt. Ltd.,Kochi or reach us on 0484-4140999.