With well informed parents and children settling for nothing short of best education, the number of students embarking on overseas studies is increasing day by day.  With the stellar growth experienced in the country in the last few years coupled with technological changes and growth of the internet, top notch universities/ institutions around the globe are closer than never before. It is a common sight to see scores of students, visiting seminars venues and overseas education expos accompanied by their parents, with palpable excitement of finding a course abroad that fits their Interests and aspirations, which they sadly miss in Indian universities and colleges.
However it is observed that, many students, who seem highly positive about embarking on abroad studies, drop their plan when the stage comes for raising money.  Though higher education   does not come cheap by any means, considering this as a long term investment with high returns and relatively easy availability of education loans there is no point why one should end his /her overseas education dream for the paucity of Funds when one can avail education loan up to 25 lakhs for financing their education abroad.
The main hindrance observed here is the lack of information or misinformation regarding the process involved in securing education loans.  Banks have a well defined criterion for sanctioning loans and knowing about them can reduce your effort by at least half. The first things is with regard to the eligibility criteria, which stipulates that
The student seeking educational loan should be Indian national.
The student should have secured admission to professional/ technical course through entrance test /selection program.
The student should have secured admission to foreign university/institution.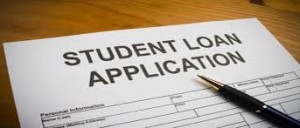 Documents required for applying for an education loan includes
Signed and completed Application form,
PP size photographs, Photo-ID of the co-applicant if any,
 Residence proof of the applicant and co-applicant
Academic documents of the student
 proof of admission to the course/scholarship/foreign exchange permit,
Estimation of expenditure of entire period of study and financial documents which include 8 months bank statement of the applicant and co-applicant, Income proof, proof for collaterals – Immovable property (flat, House, Non-agricultural land, etc
It is always ideal for students to avail Education loans from nationalized banks which are recognized by the Immigration Authorities in countries like UK, Canada, New Zealand etc. The loans are offered with a moderate interest rate allowing enough time to pay back (normally over a period of 5 to 7 years) after one year of studies or six months of getting employed, based on various factors and subject to providing securities equivalent to the amount available
Your trusted overseas education consultant, Santa Monica Study Abroad have special arrangements with Banks to support students in facilitating the preliminary documentation and ensuring a timely and hassle-free loan disbursement. Santa Monica has set up a Special helpdesk for students seeking Bank Loan assistance to guide the students appropriately regarding the procedures and documentation required for availing bank loans for education. Reach us on 0484 -4140999 to know more
* The details in the blog pertaining to eligibility criteria and documents required are to be taken as a general rule followed by the banks and are subject to change from bank to bank and from time to time.