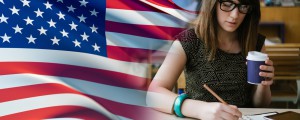 The U.S education system stands tall and has no parallels, quite an understatement considering the clear superiority of its universities and colleges and the sheer volume of international students who enroll at its top universities/colleges year after year.  Now, what is it that makes U.S the most coveted study abroad destination in the world? Let us try to understand why
 

Bench mark of excellence in academics
The United States undoubtedly has the world's finest university systems, offering a wide array of programs in diverse field's right from undergraduate to post graduate levels. The education system is so meticulously designed that students have ample opportunity to engage in practical learning and research, seeking guidance from some of the best minds in the respective domain, a reason why its universities consistently fare at top 10 positions in World University rankings.
Excellent research environment
For the research inclined, there cannot be a better destination than the US.  The best part is that U. S institutions offer an environment that is extremely conducive for research of all forms. Stipends are of great help to manage academic expenses and in meeting personal needs. Tuition fee waivers in certain cases ensure that one doesn't have to face any financial difficulty in pursuing research. With free flow of funds and grants from the federal government and multinational corporations U.S universities are best positioned to facilitate path breaking research projects.
Cutting edge technology to aid education
U.S is at the forefront of technological innovation. As an  overseas student Studying in the U.S brings one  in contact with cutting edge technology that aid education and research significantly. One will find ways to stay connected with researchers, teachers and experts in ones field all over the world and develop the competitive edge required of a global professional.
Though highly structured in terms of coursework requirements Students at U.S Universities get a wide variety of course choices of their liking.  One has the liberty to specialize in the area of choice and may extend course completion schedule in such a manner as to devote more time for research
Prompt Support Services for International Students
International student office of American colleges and universities are known for helping international student to adapt to a totally new environment and are ever willing to help students in their academic, financial, immigration, personal and social issues throughout the study period.
American campuses are full of activity all year long. There are ample opportunities to Socialize through student clubs, to volunteer in the community, play a sport or take part up academic contests. Having students from virtually all parts of the world make U.S campuses the melting pot of all cultures, which goes a long way in developing a global perspective in students.
Excellent Career Prospects
U.S educated professionals are most sought by employees the world over owing to the quality of the education pursued.  Most of the students land up lucrative job opportunities on completion of their studies in U.S and different parts of the world.  It is common to see that most international students get absorbed by the same company where they had spend their OPTS period
Looking to study in the USA, look no further

Santa Monica Study Abroad Pvt

. Ltd with over 15 years experience in facilitating overseas admissions in the U.S is  here to  help  pick your perfect U.S  university / college  that meets your unique preferences.  Feel free to visit your nearest office of

Santa Monica Study Abroad Pvt. Ltd

. or reach us on 0484-4140999.