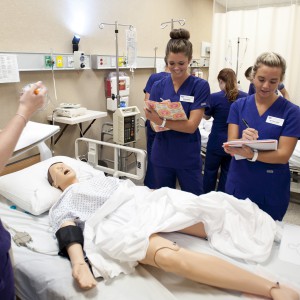 Representative image-Courtesy Google
Nursing is a time-honored profession that plays a vital part in the health and well-being of people all over the world. With the health care industry witnessing rapid transformations in terms of technology, medical innovation and research systems, there is a growing need for competent nurses who possess the best of nursing knowledge, skills, certification and exposure. What better way to earn them by pursuing  nursing studies in  some of  the  top Nursing study destinations of the world   USA, Canada, UK, Australia, New Zealand, Ireland, Austria and Germany.
Studying nursing abroad, offers one, the opportunity to learn and experience diverse healthcare which strengthens individual skills to practice and understand global health care. The state of the art clinical skills and simulation facilities available at these foreign medical institutions, allow students to simulate practice in the classrooms. Studying  Nursing abroad, offers ample opportunities for inter-professional collaboration, knowledge and expertise sharing.
There are excellent cost effective course options available ranging from 5.5 Lacs on wards, offered by institutions of repute, for fresher's as well as nurses who wish to further their knowledge and gain certifications, ranging from diplomas to undergraduate and postgraduate course. These courses provide excellent foundation for working in a range of health avenues and for further professional development in clinical practice, education, management and research, Attractive Scholarships,  bursaries and field placements are available  for selected programs. Moreover these programs should be seen as a pathway towards realizing you dream of becoming a registered nurse.
FEW HOT NURSING PROGRAMS ON OFFER 
Masters /Bachelors in Nursing
Graduate Diploma in nursing leading to comprehensive registration
Graduate Diploma in Infection prevention & control /Addiction studies
PG Diploma in Concurrent Disorders
Enhanced Nursing Practice –Clinical and Critical care
Enhanced professional practice –Gerontology and Chronic illness
Gerontology-Inter professional Practice
Leadership for Health care professional /Patient support and administration
Diploma in practical nursing
Diploma in health advanced applied management
Excellent career avenues with handsome pay packets, comes naturally to a competent nursing professional. The open work permit in some of the countries like Canada, Australia, New Zealand, and Ireland is a great comforting factor for students who do not have sufficient funds to support themselves. Please note that each country have its own rules and regulations when it comes to nursing courses/ programs, hence  It is essential to seek advice of expert consultants, who can guide the students in choosing the right choice based on their background. Santa Monica Study Abroad Pvt.Ltd.  Your most trusted name in overseas education consultant is here to facilitate admissions of students, seeking admission to leading Nursing institutions. Our experienced and well informed experts provide unbiased and accurate information about nursing programs that fit your profile and budget. For more information, visit your nearest branch of Santa Monica Study Abroad or call us on 0484-4140999.