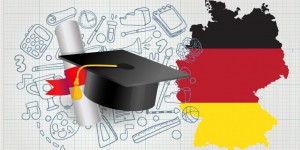 Image courtesy Google
If the latest edition of annual Science Cosmopolitan 2016 (Wissenschaft weltoffen), by DAAD and The German Centre for Higher Education and Science Research (DZHW) is any indication, Germany is slated to become a top study abroad destination for India students.  By the way India has already overtaken Russia in terms of the number of student outbound, an anticipated development considering the stellar reputation German institutions enjoy, be it on account of its state-of-the-art research facilities or the diverse programs it offers in Engineering/IT, Business/management, healthcare, life sciences, Social sciences, humanities, literature, arts to mention a few.  Global collaborations in research, relatively low tuition fees and living cost, coupled with exponential increase in number of English taught programs both at graduate and post graduate levels which currently stand at 192 and 984 makes Germany the natural choice for an Indian student settling for nothing short of best study abroad  experience.
German universities are known for offering degree programs in a wide range of disciplines with strong focus on research and practice-oriented learning, able guided by renowned faculties from around the globe. Scholarships are readily available to international student with strong academic credentials The German Academic Exchange Service (DAAD) apart from many German organizations offer international students with scholarships, irrespective of their nationality or the program chosen. The excellent connections many higher education institutions in Germany have with industry within  and outside Germany, enable students to gain precious industrial exposure and experience enhancing employability levels.
With a booming economy showing positive signs of further growth, Post study job opportunities in Germany looks brighter than never before. International students are permitted to work 120  full days or 240 half days during their course of study and can optimally utilize the stay  back period  of  18  months after graduation to look for a job.   No surprise that majority of International students like to remain in Germany after their studies.
Thinking of exploring study options in Germany? A wise decision indeed, Santa Monica Study Abroad Pvt. Ltd, your most trusted overseas education consultant, Kochi is here to facilitate admissions to leading institutions in Germany. Our experienced and well informed overseas studies experts offer unbiased and accurate information about Institutions and study programs in Germany that fit your profile and budget. For more information on study abroad options in Germany, visit your nearest branch of Santa Monica Study Abroad or reach us on 0484-4140999.