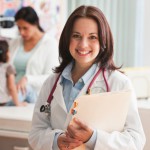 Santa Monica Medicine studies wing took shape as a humble effort towards addressing the pressing shortage of Doctors in India, which according to the Parliamentary standing committee report on the Medical Council of India (MCI), clearly states that perhaps there is only one Doctor available for 2,000 patients. An alarming figure when the WHO mandated ratio is 1: 1,000, this at a time when our medical institutions do not have the capacity to admit even one third of aspirants who appear for various medical entrance examinations every year.
Many a bright student miss out on quality medical education because of the thought that only the rich can afford it or that the procedures are too tedious,  when the reality is that medicine programs at some of the prime medical institutions in European and Southeast Asian countries can be pursued at half the cost one would incur in India. Santa Monica medicine studies constantly endeavors to do its bit in materializing the Doctor dreams of many, by facilitating cost effective medicine studies abroad and through its effort intends to play at least a minor role in addressing the issue of huge shortage of Doctors India faces.
Santa Monica Medicine studies wing has been facilitating admissions to reputed WHO, UNESCO, IMED listed medical institutions in Western, European and South east Asian countries including U.S.A. UK, Canada, Australia, New Zealand, Ukraine, Poland, Armenia, Philippines, Hungary, Bulgaria, China, Georgia, Lithuania, and Malaysia to mention a few.  There are many internationally accredited universities in these countries that have adopted highly advanced teaching methodologies with instruction in English with regularly updated curriculum that are in sync with changing trends in the medical arena. The focus is always laid in offering theoretical & practical knowledge with patient-centered clinical training. Excellent opportunities for clinical exposure are made available at university run hospitals, where, along with practical trainings, one receives excellent guidance from experienced academics and medical professionals.  All this ensures that on successful completion of  their medicine studies  one can earn a prestigious Medical degree highly rated all over the world  leaving open  vast employment avenues in best hospital and research institutions of the world.
Towards expediting and simplifying the medicine admission process for students from India and adjoining countries, St Paul University Philippines, a premier WHO listed medical institution has set up its Southeast Asian regional office in Kochi, Kerala, which is managed by Santa Monica Study Abroad Pvt. Ltd.  Looking to pursue medicine studies abroad look no further visit your nearest branch of Santa Monica study Abroad Pvt. Ltd  or call us on 0484-4140999.