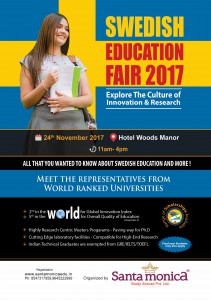 Looking for quality global education abroad? The land of the Nobel Peace prize, Sweden naturally comes as one of the most promising study destination. The largest Scandinavian country has lot to offer for International students looking for first rate affordable global education, especially engineering, technology science and medicine and more. Beyond the stellar reputation for offering the best education in the world here are some cool reasons to study in Sweden
1. Sweden has long been on the cutting edge of technology.
2. The inventors of dynamite and the ATM were Swedish; the country is also home to World famous brands like Volvo, Ikea, Saab, Ericsson and H&M. Some other inventions that have come out of this country are the pacemaker, the Celsius thermometer, chlorine, the adjustable wrench, the roller bearing, and ultrasound diagnostics. You will get to be part of such innovations.
3. The Swedish market is considered to be so trendy that it is often used by International companies to test new products. Research and development, information technology and bio-medicine are some of the most heavily-funded Sweden's business sector, putting them in the top percentile of countries in the world for published research and inventions.
4. Inventors, scientists, computer programmers, and anyone interested in cutting edge technology will find this small country a world of inspiration.
5. Sweden, has always taken academia seriously. Standards of achievements remain high. Universities work closely with industries to give students practical experience and the independence they need to be competitive. This gives you distinct advantages over your peers when entering the job market.
6. All courses taught in Sweden are subject to rigorous quality control every six years. In addition to the government, universities are also very receptive to the student's opinions on academic standards. The result – An Education that is sought World over.
7. Personal initiative and independent thinking are prized. You will be required to take an active role and contribute with your opinions and ideas at lectures, seminars and in group discussions.
8. Society and companies place a high cultural value on innovation, and you'll not only be exposed to the latest developments in your field but also could be creating them.
9. There are also over 200 Master's programs being offered in English, so foreign language should not be a barrier. In fact, many businesses use English as their official working language.
With the Sweden education fair happening on the 24th of November 2017 from 11 am -4 pm at Hotel woods manor, at the heart of the Kochi city, there cannot be a better opportunity to explore diverse job- centric programs offered by top rated institutions from Sweden. Organized by your trusted overseas education consultant Santa Monica study abroad Pvt. Ltd. For registration and more details kindly contact -0484-4140999.