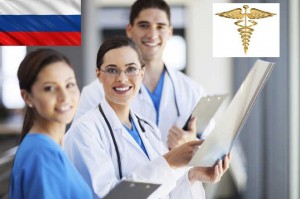 Looking for an ideal study destination to pursue your medicine studies abroad?  Russia comes as a natural choice as it has carved a niche for itself for providing world class medical education at affordable rates to students from the world over, especially from India. Russia has over 48 medical colleges with more than 17,000 doctors imparting medical education. As many as 30 medical institutions figure in the list of top medical institutions of the world. These universities and institutes offer state of the art facilities to international students. The student to teacher ratio in these medical institutions, at 7:1 is a very healthy ratio as compared to other countries.  The mode of instruction is highly practice oriented in English language for international students. Regular tests and examinations of the most stringent nature ensure the quality of the pass outs.
What makes Russia an ideal medicine study destination of the world? , well the reasons are manifold 
Easy accessible geographic location

Internationally accredited universities

Degree recognized by WHO, UNESCO, IMED and recognized all over Europe

No entrance exams

Simple application and admission procedure

Experienced faculties with international exposure

Broad exposure ensured through clinical practices and medical trainings

Proven high quality of education and excellent academic standards

Advanced teaching facilities

State of the art facilities

Possibility of studying in English

Several opportunities for clinical exposure at university run hospitals

Affordable tuition fees and living expenses

Highly safe environment for international students

Excellent employment  prospects across the world
How much will it cost?
In Russia, medical education is highly subsidized.  The tuition fees are generally from 3 Lacs onwards per year, though this may vary from university to university. Living expense for a student with normal life style would be anything from Rs 80,000 inr per year. The tuition fees and living expense for the entire course duration is just a fraction of the amount, one might otherwise spend on medical education, back in one's home country.
Admission season
The admission season for medical universities in Russia is generally from January – June with admission deadline falling on 30th of June.
When it comes to medicine studies in Russia, Santa Monica medicine studies abroad, a division of Santa Monica studies Abroad Pvt. Ltd, your trusted overseas education facilitation with over 13 years of experience in the domain is here to guide and facilitate admission to the best medical institutions in Russia.  For more info, walk into any of our nearest branch or reach us on 0484-4140999.