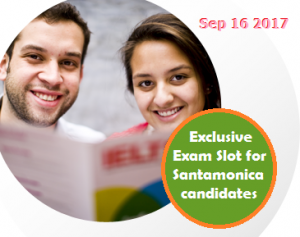 It's a common knowledge that IELTS tests especially academic test slots gets booked before months. As these test dates are published in advance,  the rush is obvious. You may be appearing for the first time or this might be your second attempt  getting the test slot  that goes along  with your intake plans  is crucial. Here is great news for students embarking on overseas studies through Santamonica especially those eyeing January intake. IDP is opening an exclusive IELTS test venue in Kochi for our candidates registering for 16-Sep 2017 test date.
A sneak peak at IELTS tests
 TEST DURATION
 The total test time is 2 hours and 45 minutes
DECLARATION OF TEST
Your score card will be posted to you/your agent 13 days after the test
SCORES
Applicants will receive a score between 1 and 9, with the latter being the highest.
VALIDITY OF TEST SCORE
2 years
As Gold member of British council IELTS program Santa Monica  Study Abroad can assist candidates to register to appear for IELTS test anywhere in India.
For registrations  visit santa monica study abroad Pvt.Ltd. your trusted overseas education consultant in Kochi or call on 0484-4140999