Earn while studying and after…!
 Overseas education does not come cheap by any stretch, with large investment already made on funding your education; it would be taxing on your parents back home to send pocket money or assist you financially. So the most effective way to finance your studies abroad would be to work part time.
Finding a part-time job while studying abroad can be a great opportunity to earn money, network with prospective employers, adaptability to the industrial needs and easy employment prospects.  Although international students can meet their living expenses to an extent with the part-time work, the main focus should be on successfully completing the study and moving on to full-time gainful employment post study.
Many countries such as Canada, Australia, New Zealand and UK provide students with part-time work rights during their study for up to 20 hours per week during sessions and 40 hours per week during vacations.  While Canada, Australia, New Zealand, etc., provide stay back options with full work rights for students to explore the job opportunities and permanent residency prospects after studies, students studying in the UK have options to move on to a Tier II category (Work Permit) after obtaining a job offer with a salary of 20,600GBP or more, post study.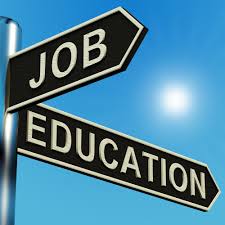 What would be an ideal job for me?
 Though this can differ from student to student   there are certain things one should keep in mind while taking up such jobs
Whether  it can be  carried out  without  missing  regular classes ,  as attending class should be your priority and working comes only second
Whether it will help you improve language skills which is very important if you intend to work there post study as language barriers can come in your way of getting a nice job
Whether it will help you to network and help you gel with the local population which is important if you are looking for a long stay in that country
Offer some hands on experience as these experience will definitely be taken into account  when you apply for employment post study
The part-time and post study stay back options are only offered to students provided they meet the eligibility prerequisites and the conditions for part-time and stay back are subject to changes from time to time.
For more information on part and post study stay back options please call us on 0484-4140999
For more information on part time  and post study stay back options please call us on 0484-4140999