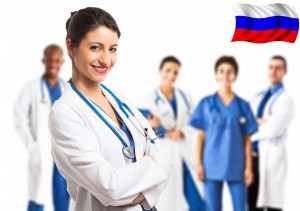 Russia has carved a niche for itself for providing world class medical education at reasonable rates to students from the world over, especially from India.  The last 15-20 years have seen a surge in the number of international students opting to study medicine in the Russian Federation and this trend is increasing year after year. What is so special about Russian medical education that students from all over the world are flocking to these institutions?
HERE ARE THE REASONS
  1)   PREMIER INSTITUTIONS WITH STRINGENT ACADEMIC STANDARDS
Russia has over 50 medical colleges with 17,000 + doctors imparting medical education.  A sizeable number of medical universities of Russia are listed in the 'World Directory of Medical Schools', published by the WHO. Some of these universities have a history that dates back to more than two hundred years; all these Universities are world class in every sense of the term.  Tests and examinations at these institutions are stringently formulated on a regular basis. Student's performances in tests are evaluated and their progress in mastering the topic is closely monitored to ensure best quality of pass outs.
2 ENGLISH AS THE LANGUAGE OF INSTRUCTION
If language barrier was something that stopped many a Indian students from pursuing medical education in Russia,  this barrier does not exist anymore as most of the institutions now offer instruction in Both English and Russian.  However it is observed that students start to speak Russian with certain a level of confidence by the first year itself, which helps them gel well with their Russian colleagues as well as the local population.
3)   NO ENTRANCE EXAM HURDLE AND DONATION REQUIREMENT  
It is true that unlike India,  for gaining admission to  Russian medical institutions, one need not  spend months it not years preparing for entrance exams,  and wait for the cut off to determine where they will get admission, that too not  at  the institution of their choice but depending on their ranking. One does not have to undergo any entrance examination for gaining admission to university of their choice in Russia. Absolutely no donations are to be paid for gaining admission which means the best of quality medical education without entrance tests.
4)  ECONOMICAL TUITION FEES AND COST OF LIVING
Tuition fees at Russian medical universities are much lower in comparison to those in other countries; this is due to the financial support provided by the Federal Government to the universities.  A foreign student only has to pay about 10 to 20% of the actual cost of education, which makes it way below what one will have to pay for pursuing Medical in India.  Tuition Fee   is   18 lac / for 6yrs but may vary from university to university.  In addition to university fees, Cost of living is ranges between only 80 USD and 100 USD per month (5000- 6500 Rupees), which is   considerably low by any standards. Considering the cost of Medical education in India, this a great opportunity for talented students from humble background to realize their dream of becoming a doctor.
5) GLOBAL RECOGNITION FOR RUSSIAN   MEDICAL DEGREES
Russian medicine degrees have gained global recognition and have topped UNESCO and WHO ratings. Over 30 Russian institutions finds place in International university rankings. Gaining medicine qualifications from Russian medical Institutions' can open up excellent   employment and academic opportunities internationally, which is the reason why Russia is the hot favorite of medical aspirants across the world. With curricula in sync with ever changing medical breakthroughs, Russian medical degree holders are revered across the world.
 6)   EXCELLENT   RESEARCH ENVIRONMENT
Russian medical Universities are known for their research breakthroughs, their researches are extended globally through collaborations with leading research institutions. All institutions are well equipped with the most modern teaching aids and laboratories, facilities that are best in the world that aids such research endeavors.
7)  PRESENCE OF SIZEABLE NUMBER OF STUDENTS FROM THE INDIAN SUBCONTINENT AND ASIA
Students studying In Russia feel at home, as large number of students from the Indian subcontinent especially from India, Sri Lanka, Pakistan; and Asia study here. These students celebrate their festivals with a lot of pomp and gaiety. Owing to the large presence of Indian students, Indian food is served in many university canteens. Restaurants serving Indian foods are also quite common though the cost can be on the higher side.
8)  EXPERIENCE GREAT SOCIAL LIFE
International students in Russia will find themselves in the midst of an array of vibrant culture and dazzling nightlife .Russia is a vast country with endless list of festivities.  Russian are known the world over for the liking for Good things in life. As a student in Russia, one is sure to experience the very best of Russia in terms of food, culture and mesmerizing landscapes.
Looking to study medicine abroad and still confused? Let us pick the right medical education path for you.  Santa Monica study Abroad Pvt. Ltd., with over 13 years of consultancy experiences, works closely with top universities in Russia call us on 0484-4140999 to fix a free appointment.