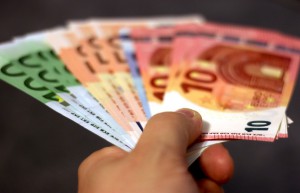 Study abroad phase is undoubtedly an exciting phase in anybody's life. With sizable investment being made, one is likely to feel the pinch. And moreover, pestering parents for additional money is the last thing, one would have on mind. So what is the solution? Obviously finding ways to earn a few bucks for your pocket money and other expenses, let us see how.
1.  Find a tutoring opportunity
For Students with good academic standing, one of the best ways to earn money is through tutoring students having difficulty with their studies. One doesn't have to hunt for tutoring jobs elsewhere, as many of your juniors itself, would be in search of someone to help them with their studies.  Tutoring opportunities not only earn money, it can help you improve your own studies.
2.  Find a Part-Time Job
Managing work alongside studies can be quite a demanding task. But for those who can handle it with proper time management and prioritization, part time work can provide handsome rewards financially and can add valuable work experience. However, make sure your job does not stretch that far, where you are compromising your studies and putting your health in the back-burner.
3.  Take up summer jobs
Summer vacations are real time to cash in as international student. In majority of overseas study destinations, students can work for unlimited hours, as number of seasonal businesses, require increased work force during this seasons. There is huge demand for workers during this period. Usually such vacancies come up in restaurants, amusement parks; catering services etc as these businesses are at its peak during summer vacations.
4. Freelance
Freelancing is one of the best ways for international students to garner money during their study abroad period. Internet in a great way has enhanced avenues for freelancers, with scores of freelance site offering jobs and projects in diverse areas. All that one requires is to create an account on these sites. One can bid for a particular work through the site.  With regard to payment, as most credible freelance site has escrow arrangement, which means that a particular payment remains in an escrow account for the service provider.  So there is very little chance of fraud. There are number of students studying abroad who are making considerable amount per month through freelancing. This not only helps you earn money, it also helps you build valuable work experience.
5. Look for Promotional and on-Campus Jobs
With companies requiring promotional activities round the year,  there are ample number of jobs available for international students as volunteers for promotional  events,  pamphlet distributors, product promotion assistants at public places , supermarkets etc, which provide  a tidy amount. Apart from promotional jobs, on campus jobs can be a possible earning opportunity.  Though the remuneration would be no match considering what outside job offer, one can have a steady job throughout the study period, without having to travel much for work, plus university jobs are relatively easy which you can  take along with ease.
6.  Try your hands at business of small scale
Most of us just require a spark to exhibit our business acumen, though not of mammoth proportion but surely one that can help earn a tidy amount. One of the best options would be to organize stalls at small events to sell your wares. It wouldn't also be a bad idea to try your hands at events, by hosting birth day parties, get together etc, fully adhering to the rules and regulations of the host country.
Your Study abroad phase need not be fully dependent on money from home. As with the right attitude, networking, time management and prioritization; one can effortlessly do part time jobs while studying abroad and earn money. So do not just limit your study abroad phase for studies, master the art of becoming self reliant from day one.