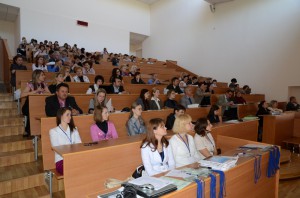 When it comes to Medicine studies in Ukraine, Medical Institute, Sumy state University is a name to reckon with.  Founded in 1992 as the Medical Faculty of Sumy State University, it is in the forefront of providing quality medical education at economical costs and is widely known for its innovative teaching, practical training and research environment. No surprise that it has produced world class doctors serving at prestigious medical institutions across the globe. Currently the institute hosts students from Eastern Europe, Asia, Africa, and Latin America.  
The Webometrics worldwide Internet rating puts medical institute of Sumy state university at 11th position among Ukrainian institutes of higher education. It is a signatory of Magna Charta Universitatum and a member of the International Association of Universities, the European University Association, and the Eurasian Universities Association, which speaks volumes about the credibility of the institution.
The undergraduate medicine program at Medical institute of Sumy State University takes  6 years to complete, which leads to MBBS degree. This includes 5 years studies and 1 year internship, during which students learn fundamental to special areas of medicine. They are also involved in examining patients,  exposed to intensive care needing scenarios etc The Faculty at Sumy medical institute have extensive international exposure and are known for adopting innovative teaching and training methodologies which is sure to aid teaching to great levels. International scientific and practical conferences, seminars and symposiums are held at regular intervals towards enhancing the scientific and pedagogical potential of the Medical Institute.Clinical and theoretical training of the students is conducted  at various departments with the aid of modern medical diagnostic equipment's.  The classes' as well as the training sessions are held in English,   Ukrainian and Russian With regard to accommodation of  students Medical institute of Sumy state University provides modern, fully serviced and comfortable accommodation for international which caters to the personal as well as  academic need of  the candidate along with 24-hour access to security and emergency services.
Need more in formation  about gaining admission to Sumy medical institute, Ukraine ?  look no further  Santa Monica Study Abroad Pvt.Ltd. Your most trusted name in overseas education consultancy is here to facilitate admissions of students, seeking admission to leading medical  institutions across the globe . Our experienced and well informed experts provide unbiased and accurate information about Medicine programs that fit your profile and budget. For more information, visit your nearest branch of Santa Monica Study Abroad or call us on 0484-4140999.
*Please note clearing of MCI screening test is mandatory for practicing in India