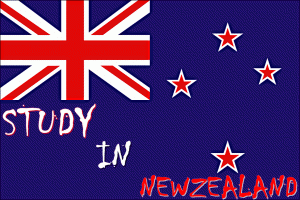 Strong international ranking and expert teaching staff coupled with world class facilities and a rich pool of natural resources, New Zealand is becoming increasingly popular overseas study option among international students seeking qualifications that are recognized worldwide and on par with world's other great education providers such as UK, USA, Australia and Canada.
There are 8 public universities in New Zealand which offers courses ranging from undergraduate programmes to PhD and post doctoral courses. Five New Zealand universities were ranked in the top 400 universities in the world by the 2013-2014 Times Higher Education World University Rankings. New Zealand has 22 Institutes of Technology and Polytechnics that offer highly vocational and skill based courses ranging from certificate level through to Bachelors and Post Graduate level. There are a growing number of private tertiary and training providers offering study options in diverse range of subjects.

Some of the deciding factors that has been cited by International students for choosing New Zealand as their higher study destination has been
 With the lowest cost of living among the developed nations and the opportunity to work 20 hours per week while studying and 40 hours during the summer holidays, New Zealand provides an immense financial relief for international students who wish to budget their overall expenses towards their education in New Zealand.
 

Multicultural Environment
 The diverse mix of cultures and people provides a welcoming feel to the international students and makes it easier for them to integrate into the culture.
 

Safe and secure study destination
 New Zealand has a reputation for being a safe country with very low crime rate. New Zealand is ranked 3rd in the Global Peace Index.  It is one of the few countries in the world where the government has set out strict guidelines to ensure that International students are well informed, safe and properly cared for through the Code of Practice for the Pastoral Care of International students. Every education provider that caters to international students is signatory to this Code of Practice laid by the Ministry of Education
 The New Zealand Government and New Zealand Universities provide a number of scholarships for international students who wish to study in New Zealand.
Following the successful completion of level 5 & 6, Level 7, 8 and 9 students are entitled to 1 year post study work permit which provides students with an opportunity to explore job prospects in New Zealand and acquire valuable international work experience.
Students who proceed for Post Graduate programs and a few level 7 programs that figure in the shortage skill list are entitled to take their spouse along with full work rights.
 

 

Employment prospects after graduation.
With skills shortage existing across various sectors in the New Zealand Labour market there is a strong demand for skilled workers especially in health, social work, Information and communication technology, hospitality, agriculture, farming and engineering industries.
 

Fantastic immigration policies
Students with qualifications and skills in the long term shortage skill list published by Immigration New Zealand and who wish to stay in New Zealand long term may apply for resident visa under the skilled migrant category to live and work in New Zealand permanently.
Overseas education consultant
Santa Monica study abroad, your trusted overseas education consultant with over 13 years of experience in the overseas education domain is here to assist in your overseas study plan, with association across 10+ countries and over 200 universities/institutions of repute. Our exclusive services ranges from Universities / Colleges short listing to application submission, liaising with Universities, visa guidance,  scholarship assistance, financial aid, education loan  assistance to pre departure and post landing assistance Our expert career counselors with years of experience to back, will guide you to choose a course and  university in New Zealand and across the world  that does justice to your talent and potential and will  offer the best course and country for you, keeping in mind the changing world, job market, personal aspiration, aptitude,financial condition etc.
  We are an Education New Zealand Recognized Agency (ENZRA)
For authentic information on study abroad options, walk in to any of our branches or call on 0484- 4140999 to fix a free counseling session.