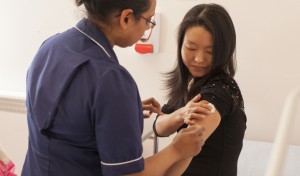 Representative image
The ability of Indian nurses to work effectively with people of varied cultures, patients' cultural beliefs and practices are well known throughout the world.  Historically, UK has been the most   attractive destination of nurses from India, which supplies a major share of highly competent and committed nursing professionals. The increasing shortage of registered nurses in the UK, offers excellent opportunities for Indian nurses with a minimum of 2 year work experience.  Though a nursing career in the UK is full of promise, one will have to pass the NMC test of competence which has been made mandatory Since October 2014 for nurses and midwives trained outside the European Economic Area, seeking UK registration The test intends to assess a potential nurses nursing qualification, training and experience against UK Standards and confirm their competence to practice according to UK standards.
WHAT DOES THE NMC TEST CONSIST OF?
The test consists of two parts, one a computer-based multiple-choice test (CBT) and a practical structured clinical examination (OSCE).
The computer-based multiple-choice examination is conducted by Pearson VUE, at various designated test centers. The test consists of 120 multiple choice questions, of maximum 4 hours duration, with no negative score for unanswered questions. Examination results will be emailed to candidates within 48 hours after taking the examination. You can also obtain your results within 48 business hours by logging on to your Pearson VUE account which you will have created when booking your exam. Candidates are initially allowed two attempts of the CBT at separate sittings.  If they do not pass in the second attempt, they can re-apply to take the test again, but only after waiting for at least six months to do so.
The second part of the test OSCE can only be attempted after successfully passing the CBT It is only available in the UK at a designated test centre. The OSCE is designed to assess a candidate's ability to competently apply ones professional nursing or midwifery skills and knowledge in the UK. It is set at the level expected of nurses and midwives as they enter the professional
HOW TO TAKE THE TEST
The test of competence requires candidates to complete an online application process through NMC web site.  After your eligibility assessment, an NMC Candidate ID will be communicated to you by the NMC and you will receive authorization (ATT) to take the test. Before you can book and pay for your exam with Pearson VUE.  Subsequently you need to create a Pearson web account by visiting the link https://www8.pearsonvue.com/testtaker/profile/SignUp/NMC and use this account to schedule your exam.
Now you can book / take Nursing and Midwifery Council, UK  CBT test, at Santa Monica Study Abroad Pvt. Ltd, which manages the Pearson VUE Test Centre located in the heart of Kochi City, at Chandrasekara Menon Road in Ernakulam South.  A dedicated Help Desk functions at this address for account creation & Test booking – contact 0484-4140999