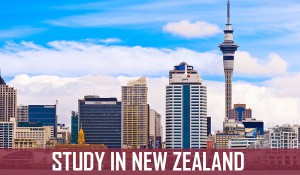 This island country, located in the South Pacific ocean, encompassing two main islands north Island and south Island and several smaller islands surrounding them is known the world over for its zest for adventure and fun, and can boast of some of the world's most picturesque locations that have become part of many top bollywood blockbuster's.  New Zealand has much more to offer than mere idyllic locations. New Zealand has a flourishing economy with exports playing a major part.  Chief item of export include agricultural and horticultural products, fishing, forestry and mining.
When it comes to offering quality education, New Zealand is recognized Global leaders more over New Zealanders are a welcoming community which makes international students feels safe and secure. The cost of living is much lower compared to other countries. The education system is based traditionally on the British model; the university learning system is research based ensuring high quality learning. The Universities and institutes of technology are government funded and focus on research based learning and maintains strong links with industry which is study in New Zealand is becoming popular among students. Cost effective industry endorsed programs with cutting edge research opportunities are available for Engineers- Civil, mechanical, Electrical, Electronic etc. New Zealand has worked up some serious reputation for its courses on Horticulture, Viticulture, wine sciences, food technology and veterinary science and more.
Scholarships
Scholarships are aplenty for eligible students. These are offered by institutions themselves government industry bodies or social organizations New Zealand Ministry of education provides a range of scholarships for students pursuing tertiary studies in New Zealand. Scholarships can be applied for at different education levels from Diploma to masters programs though may vary in what they cover, like some scholarships for study aboard in New Zealand like some scholarships only include tuition fees, while others include complete course costs and part of one's living expenses also.
With regard to part time work rights students are permitted to work 20 hours per week (40 Hours during vacation) for courses above level 8 and few selected courses spouses are eligible for full time work permit  post study students are eligible for a 12 months graduate job search visa.
Meet representatives from 27+ top notch institutions from New Zealand and gain valuable information on how to pursue a course of your choice in New Zealand, visit New Zealand education fair 2017@ Hotel Taj Gateway on Friday the 28th of April 2017.  The event is supported by Education New Zealand (A crown entity of New Zealand government The entry is free for students. The education fair timing is from 10 am -5 Pm. For registration and more information please call on 04844140999.