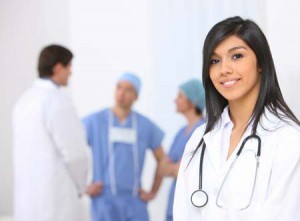 Ukraine is at the forefront of providing quality medical education at economical costs.  It has a highly developed health care system that adopts practical teaching approach, which makes it easier for students to grasp the concepts. The well established medical universities in Ukraine are recognized all over the world for providing excellent quality medical education in a serene social environment. Medical degrees offered by Ukrainian institutions are recognized across the globe. For an Indian student on successful completion of the course he/ she can appear in the MCI screening test (FMGE) for gaining MCI registration, which is mandatory for practicing in India.
Indian students who wish to study medicine in Ukraine have a tremendous advantage because, though there is no compromise with regard to the quality of education, the admission process is quite simple.   The most notable thing is that there is no entrance test; a dreaded term as far as any medical aspirant is concerned.  The documentation requirements are quite simple and the visa process also does not take consume much time.  To boot, the biggest concern of any Indian student, getting Indian food, does not exist, as Indian food are served at all most all University canteens and also the number of restaurants serving Indian food is phenomenal. There are excellent transport facilities available within the Country.  Students are offered with a 40 per cent concession over the normal rate of the tickets of buses, shuttle-buses, trains, etc.
These and a host of other reasons, make medical studies in Ukraine extremely popular, with students from all parts of the world.
     WHY UKRAINE IS A STAND OUT DESTINATION FOR MEDICINE STUDIES?  
 

Finest medical education systems and facilities comparable to the best in the world

Excellent educational system accepted worldwide

Affordable fees, compared to other European countries

Highly rated faculties from USA, Canada & UK

 Excellent faculty to student ratio

British Curriculum with Practical oriented education system

Medical universities feature High on World rankings  

Almost all universities of Ukraine are recognized by international bodies and organizations such as WHO also known as AVICENNA Directory for Medicine, IMED International Medical Education Directory of FAIMER, UNESCO and AMEE.

Almost all universities of Ukraine have   scope for studying post- graduation and PhD thus allowing students to smoothly move from one level to the other.

Successful pass outs are permitted to apply for International Licensing exams like USMLE (USA), PLAB (UK), MCI Screening Test as well as other licensing exams throughout the world.

Moderate climate throughout the year

Comparatively low cost of living, a student with a normal   lifestyle can survive with around 100 USD – 200 USD a month.

An attractive destination for those interested in traveling as Ukraine is known for its variety of landscapes and vibrant culture.
COURSE DURATION AND QUALIFICATION OFFERED
Under graduate course in General Medicine is of 6 years duration and is conducted in English & after completion of 6 years of UG course student is conferred with "MD Physician" degree, which is equivalent to M.B.B.S. in India. 
  ELIGIBILITY 
For undergraduate course: Candidate must have completed his/her secondary education with minimum  50% marks in Biology, Physics & Chemistry from a recognized college.
TUITION FEE
INR  16 lakhs    [6yrs] except living cost
HOSTEL FEES
800$ approx /per year
FOOD AND LIVING 
1500$ approx / per year
Santa Monica Study Abroad Pvt. Ltd. has been working closely with top ranked medical universities in Ukraine and can help you identify your best option.  The team at Santa Monica has personally visited the institutions and have assessed their facilities and interacted with students before facilitating admissions to their associated institutions. For more details, please seek the advice of our experts in choosing the right destination for your medicine studies.  For more info contact us on 0484-4140999.
*Kindly note that all foreign medical graduates wishing to pursue their medicine practice in India should mandatorily clear the MCI clearance test known as (FMGE) .