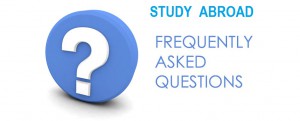 Studying abroad is unarguably a crucial investment both in terms of time and money and hence parents and students put in all efforts to ensure that nothing is left to chance.  In such a circumstance, having questions is quite common and normal. Though these may vary case by case, some of the frequently asked questions are as follows. 
1 What are the benefits of studying Abroad?
World class education helps you to shape your career successfully in the global market. An international qualification is recognized around the globe. Studying abroad gives you a chance to network with global citizens and work under multinationals. It provides you a platform to familiarize yourself with the global market demands and enhance your career prospects.
2 Which are the popular countries for pursuing higher studies abroad?
UK, Canada, Australia and New Zealand are most preferred for higher studies in IT, Engineering,
Accounting, Business, Hospitality, Nursing, etc, While USA tops for IT studies, engineering qualifications earned from Germany, Sweden and Norway are gaining global attention. Singapore is increasingly becoming popular for cost-effective western university qualifications. Countries like Russia, Ukraine, Bulgaria, Latvia, and Lithuania Poland Hungary Malaysia Philippines offer quality and cost effective courses in medicine studies.
3 What are the different ways of financial support for my studies abroad?
The different methods to support your studies abroad are: Education loans, Sponsorship by individuals / organization; Scholarships by Indian/foreign governments, private trusts and also individual universities.
4  What are the post study job prospects available abroad?
Most countries offer stay-back options for students to explore job opportunities on successful Completion of their studies.  The Coops and internships during the study help the students to network and search for employment opportunities after the completion of the course. Countries such as Canada, Sweden, Germany, New Zealand, Australia, etc. encourage students to stay back and explore job and PR opportunities after their successful study and few years of work/stay in the family can accompany you for your studies; however, the work rights for your dependents are subject to the laws of that country which may change from time to time.
5 What services can I expect from a overseas education consultant/facilitator?
Experienced and trusted consultants like Santa Monica provide candid counseling in choosing the right study options as well as assist you in applying to the institutions of your choice, getting offers, availing bank loans and scholarships, payment of tuition fees, visa documentation, pre-departure guidance and domestic (police clearance certificate, air tickets, money exchange) and international
Support (airport pick up, temporary accommodation, job search, community connections, legal issue helps, etc) to help ensure you have a smooth transition.
6 What should I do if the institution rejects my application for a particular Program?
If an institution rejects your application, you can re-attempt to apply for a suitable program matching your profile in the same institutions itself with more supporting documents or choose an alternative option in other institutions where your profile would be eligible.
7  What are the options available in case my visa is rejected: Will I incur any financial loss?
In the event your visa is being rejected, you can resubmit your application by providing explanations and documentations to alleviate the concerns raised by the High commission/embassy. Your visa fees are non-refundable but most institutions do refund the tuition fees already remitted to them, after deducting nominal Administrative charges, which is usually mentioned in the offer letter or in the concerned institution's website. The consultant can assist you for claiming the refund of your tuition fees from the institutions.
8  Can I visit my home during my studies abroad?
Most countries allow students to visit their home country during vacations. If you have a multiple entry visa you would be allowed to visit your home during your study period easily.
9  Why are the entrance tests/proficiency tests important requirements to   Study/migrate abroad?
All the western countries insist that the students belonging to non-English speaking countries should be able to handle the English language fluently while studying in their country for English taught program. English language proficiency is therefore an important requirement to assess your visa application and hence we would recommend having English language proficiency scores. English Language Tests: Pearson's PTE Academic (PT)/IELTS/TOEFL are the most common English language proficiency tests accepted by the institutions and immigration authorities across the world. Please check individual institution/official immigration department website for their requirements.
For MBA/Engineering studies in many countries Graduate Record Examinations (GRE) standardized test used to get admissions in various graduate schools or business graduate schools in various English speaking countries, especially the United States. Graduate Management admission Tests (GMAT) scores are used by graduate business schools to make admission decisions.
Still have questions?  please feel free to walk in to your nearest branch of Santa Monica study Abroad Pvt. ltd., your trusted overseas education facilitation with over 13 years of experience in the domain, facilitating admission to over 200 universities/institutions to 20 + countries.