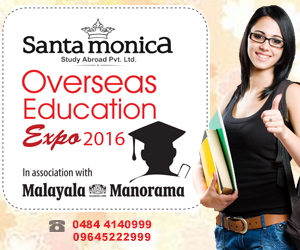 With quality overseas education on top of your agenda, Santa Monica overseas education expo 2016, held in association with Malayala Manorama is a must visit, as It offers, an  unique opportunity to explore the best in overseas education, in terms of institutions and programs. Renowned overseas institutions from 80+ countries are taking part in this expo, showcasing their niche courses and specializations. Students and parents will have opportunity to interact with delegates to clear their queries. One can also receive personalized education counseling, application fee waivers; spot offers etc and gain exhaustive information on scholarships,visa formalities etc. 
Overseas education being a high value investment, this opportunity needs to be put to maximum use, as there can't be a better opportunity to get the most authentic information on the course of your choice, directly from university officials. With number of institutions from different countries taking part, the options are diverse.  Let us briefly see, what it takes to gain maximum benefit from overseas education expo 2016.
Register in advance
With advertisements and media news, overseas education expo dates and venues   have already been publicized. One can register through the dedicated expo website www.overseaseducationexpo.com , which hardly takes a couple of minutes for entering ones basic information like name; email id, Educational qualification phone number etc. Though it is not compulsory to register online to visit expo, it will help representative to counsel and offer the right course, based on the information provided in the online registration form.
  Preparation is vital
With 80+ institution stalls, it is going to be a herculean task to visit all and make enquiries, so the best solution will be to zero in on the course you require and look for participating universities, who offer them.  If you have any particular country in mind, look for institutions that offer them in the country of your preference. This will help you pay a visit to the respective stalls and get all necessary information, without having to scan the entire expo area.
Accompanying parents, would be a wise decision
Now, since visiting expo is an opportunity to meet delegates from various universities, it would be ideal if your parent or someone who is the decision maker accompanies you,   as it will help them clear doubts then and there and help take an informed decision, after considering the institutions and course options available.  Moreover, it is seen that, with wide options being available; students tend to get confused and often cannot figure out, which stall to visit or what questions to ask.
Carry necessary documents
The most important thing, one should never forget is to carry copies of education certificates and or professional history (CV), IELTS or PTE score (if you have one). This will help representatives to give a more accurate advice. In case you are visiting the expo for your friend, relative etc, it is always advisable to have a clear picture about his/ her academic credentials, course preference etc, without which, it would be impossible to get any meaningful suggestions.  Following these simple steps would help you to gain maximum benefit from the expo.
Come, visit  The Santa Monica Overseas education Expo 2016 , the most authentic overseas education expo of  South India, being  held in association with Malayala manorama co. Ltd. The expo will have participation of 80 + universities / Institutions from 15+ countries     The venues and dates  are as follows  Trivandrum on 4th April 2016, Calicut on 6 th, Kottayam on 8th and Kochi on 9th of April, 2016 respectively. Hurry!  To register, visit www.overseaseducationexpo.com or call 0484-4140999.