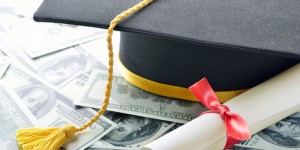 As more and more Indians are opting to study abroad, funding of studies becomes an important requirement and thankfully, of late Indian Banks have come to the rescue of students in fulfilling their dreams of gaining an international degree. Banks usually provide an amount of up to Rs. 25 lakhs as education loan to cover the tuition fee, library and laboratory fees, cost of books and instruments required during the course, air fare, living expense, insurance premium, etc; however, the disbursement of loans is at the discretion of banks/bank managers. It is always ideal for students to avail Education loans from nationalized banks which are recognized by the Immigration Authorities in countries like UK, Canada, New Zealand, etc.
The loans are offered with a moderate interest rate allowing enough time to pay back (normally over a period of 5 to 7 years) after one year of studies or six months of getting employed, based on various factors and subject to providing securities equivalent to the amount availed.
Documents required for applying for an education loan includes: Signed and completed Application form, PP size photographs, Photo-ID of the co-applicant if any, Residence proof of the applicant and co-applicant, Academic documents of the student, proof of admission to the course/scholarship/foreign exchange permit, estimation of expenditure of entire period of study and financial documents which include 8 months bank statement of the applicant and co-applicant, Income proof, proof for collaterals – Immovable property (flat, House, Non-agricultural land, etc).
Some of the banks offering Education loans for higher studies: Andhra bank, Axis bank, Bank of Baroda, Bank of India, Bank of Maharashtra, Central bank of India, HDFC bank, HSBC bank, IDBI bank, Karnataka bank, Oriental bank of commerce, Punjab and Sindh bank, Punjab National Bank, Allahabad bank, SBI, SBT, State bank of Bikaner & Jaipur, State Bank of Mysore, Syndicate bank, Canara bank, Vijaya bank, etc. Many overseas educational consultants like Santa Monica have special arrangements with Banks to support the student in facilitating the preliminary documentation and ensuring a timely and hassle-free loan disbursement. Santa Monica has set up a Special help desk for students seeking Bank Loan assistance to guide the students appropriately regarding the procedures and documentation required for availing bank loans for education.
** The details above are to be taken as a general rule followed by the banks and are subject to    change from bank to bank and from time to time.