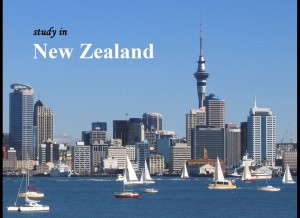 Representative image -Courtesy Google
There cannot be a single answer to the question that what attracts students from across the globe to study in New Zealand.  The reasons are too many and vary to a large degree from student to student. Some choose New Zealand for its serenity and tranquility, others swear by its unique culture and picturesque locales, offering endless adventure and sporting opportunities. All these are key factors but the real reason for getting that priced tag of being one of the most sought after study abroad  destination is  its  sheer quality of  education system, rated highly across the globe that can be viewed at par with that of USA ,UK  ,Canada and Australia to mention a few. New Zealand can boast of a robust education system, with institutions finding top positions in international rankings. The expertise and competency of the teaching staffs coupled with world class facilities makes New Zealand institutions increasingly popular among international students.
There are 8 public universities in New Zealand that offers courses ranging from undergraduate programs to PhD and post doctoral courses all of which were  ranked prominently in  2014- 2015 Times Higher Education World University Rankings. New Zealand also has 22 Institutes of Technology and Polytechnics that offer highly vocational and skill based courses ranging from certificate level through to Bachelors and Post Graduate level. There are also a growing number of private tertiary and training providers offering study options in diverse range of subjects.
Though there are a host of reasons cited by International students for choosing New Zealand as the most preferred study destination abroad, the most common reasons are
Safe and secure study destination
 New Zealand has a reputation for being a safe country with very low crime rate. New Zealand is ranked 4th in the Global Peace Index. It is one of the few countries in the world where the government has set out strict guidelines to ensure that International students are well informed, safe and properly cared for through the Code of Practice for the Pastoral Care of International students. Every education provider that caters to international students is signatory to this Code of Practice laid by the Ministry of Education
With the lowest cost of living among the developed nations and the opportunity to work 20 hours per week while studying and 40 hours during the summer holidays, New Zealand provides immense financial relief for international students who wish to budget their overall expenses towards their education in New Zealand.
Offers Multicultural Environment
The diverse mix of cultures and people provides a welcoming feel to the international students and makes it easier for them to integrate into the culture.
 The New Zealand Government and New Zealand Universities provide a number of scholarships for international students who wish to study in New Zealand.  One of the most notable among them is the New Zealand development Scholarships offered by the New Zealand to students from selected developing countries in Asia and Africa to gain knowledge and skills through post-graduate study in specific subject areas that will assist them in the development of their home country. The scholarships cover tuition fees, travel costs, living allowance, and insurance. New Zealand institutions also have similar scholarships that come handy to International students.
 Following the successful completion of level 5 & 6, Level 7, 8 and 9 students are entitled to 1 year post study work permit which provides students with an opportunity to explore job prospects in New Zealand and acquire valuable international work experience.
 

Excellent Employment prospects after graduation.
 With skills shortage existing across various sectors in the New Zealand labour market there is a strong demand for skilled workers especially in health, social work, Information and communication technology, hospitality, agriculture, farming and engineering industries.
Encouraging immigration policies
 Students with qualifications and skills in the long term shortage skill list published by Immigration New Zealand and who wish to stay in New Zealand long term may apply for resident visa under the skilled migrant category to live and work in New Zealand permanently.
 Students who proceed for Post Graduate programs and a few level 7 programs that figure in the Shortage skill list are entitled to take their spouse along with full work rights.
Looking to secure admission to a top institution in New Zealand?  Look no further.  Santa Monica Study Abroad Pvt. Ltd, your most trusted overseas education consultant is here to facilitate admissions to leading institutions in New Zealand. Our experienced and well informed experts provide unbiased and accurate information about Institutions and study programs in New Zealand that fit your profile and budget. Santa Monica study Abroad Pvt. Ltd is an Education New Zealand Recognized Agency (ENZRA), the crown entity of New Zealand Government that takes care of Internationalization of education. For more information, visit your nearest branch of Santa Monica Study Abroad or call us on 0484-4140999.