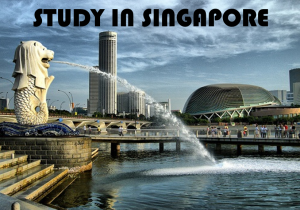 Representative image
Singapore is unquestionably one of  the most sought after study destination of Asia owing to its excellent educational system.  It stands tall as a Global education hub offering world class study programs to International students. Singapore's competitive education offers international student's great value for money as it allows one to obtain a recognized international degree in diverse streams ranging from Information technology, engineering, finance, media studies, law to mention a few, without having to travel  all the  way to USA, UK Or Australia.  Is Singapore the right choice for you?  Here are top reasons why there can't be a better one.
Excellent quality of education    
Singapore is  education  powerhouse of  Asia and the world. Singapore is known to maintain high standards of teaching and learning. Apart from six national universities, many premier foreign universities have set up their campuses in Singapore, imparting quality education at affordable fees. The strong academic collaborations between Singaporean and foreign institutions have contributed significantly in enhancing the overall quality and global credibility of the programs, a reason why Singapore figures prominently in the world education ranking.
Affordability without compromising on the quality of education is what makes Singapore stand out as a popular study abroad destination. International students have the option to join world class programs  offered by premier institutions  in  the USA ,UK etc  in their Singapore  campuses.  Being geographically close to India also means economical air fares, cheap telephone calls which brings down your  overall expenditure on education significantly.
Singapore has one of the most competitive economies of the world which has performed comparatively well under the prevailing economic climate, its global trade and investment continues to provide a solid basis for its economy, which is promising news for number of International students currently pursuing various programs in Singapore.
World class Infrastructure and connectivity 
When it comes to infrastructure and connectivity Singapore has few parallels. Singapore is well connected via sea and air.  Its state of the art transportation system is rated as the best in the world. With excellent telephone and internet penetration you are never too far from your loved ones.
Though of comparatively small size, Singapore is known as a global city with truly world class  infrastructure.   Its towering skylines,  built-up environment  and  beautiful landscapes  are truly  mesmerizing  The city's-never  ending buzz and energy  with never-fading  fun and festivities makes Singapore a spell bounding destination that  is sure to  keep  everyone enchanted.
Excellent Industrial attachment/ internship programs on offer
The 'Industrial Attachments' or internships programs which is normally of 5-6 months duration are great opportunities to gain some valuable work experience and makes one entitled to  a stipend This period though of short nature would go a long way in developing the basic skills necessary and at the same time would make one get acclimatized to the work environment of Singapore.
Though geographically a small country, Singapore  is home to a large number of Multinational Corporation offering excellent job opportunities to bright international students. Singapore with its strong Manufacturing, Construction, Tourism,  Retail and  Healthcare industry is expected perform comparatively well in the coming years which is positive news for International students.
Looking to study in Singapore, look no further Santa Monica Study Abroad Pvt. Ltd with over 15 years experience in facilitating overseas admissions in Singapore is here to help pick your perfect Singapore University / college that meet your unique preferences.  Feel free to visit your nearest office of Santa Monica Study Abroad Pvt. Ltd. or reach us on 0484-4140999.