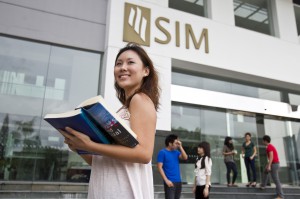 If you are a student looking for quality study abroad options, Singapore would definitely be on top of your agenda, Singapore by virtue of being close to India and having similar culture that of India makes it more appealing to Indian students looking for quality overseas education. Established in 1964 SIM Global education,Singapore  collaborates with some of the finest universities across the globe from countries like Australia, UK, Switzerland and the U.S to offer unique programs taught by highly qualified international faculty,  mixing Asian practices with international perspectives for a truly global outlook that turn one in to a Global professional. Have a look at few reasons why you should study at SIM Global education Singapore.
Reputed partnership with world class universities and top notch faculty
With over 50 year old heritage , over 132,000 strong alumni , student's enrolment of over 36,000 and over 2, 0000 strong top notch faculties,  SIM GE collaborates with finest universities across the Globe from Australia, Switzerland the UK and the U.S.  Collaborating universities are RMIT University Australia, University of Wollongong IMI International Management Institute Switzerland. The University of Sheffield UK, The university of Warwick, University of Birmingham, University of London, University of Southampton ,University of Stirling  and  United States University at Buffalo.
Extensive   Study options
 SIM  offers over 70 top quality  full time and part time courses  In Singapore  through more than 10 partner universities  ranging  from masters ,bachelors, Graduate diploma and diploma levels in areas such as applied sciences, arts  business, Communication, finance, Information technology, hospitality, Management, Nursing ,Social sciences and more.
Vibrant student life
Studying in Singapore at SIM Global is   equally exciting outside the class room with students from over 40 countries offering diverse ideas and experiences.  With over  70 student clubs   SIM is abuzz  with student activities including extracurricular activities, culture fests ,competitions which gives ample opportunity for one  to develop their  latent talents and  leadership skills.
Technology enabled State of the art infrastructure
SIMs student centric campus is equipped with latest technology and facilities to enhance student learning experience   with latest technology high speed wireless internet access, offering immense wealth of information and online services are at your disposal 24/7.
Experience the rich blend of culture
With  students from  over  40 countries from across the globe SIM  has an exciting mix of cultural diversities  which facilitates an excellent platform for cultural exchange and knowledge sharing  thereby helping in creating next generation of global leaders who  understand  the Global mindset.
Exciting scholarships on offer
SIM awards up to 35 student scholarships to outstanding international students, the criteria for selection is purely academic excellence, outstanding feats in sports and artistic sphere is also duly awarded these student scholarships
Internships and career services
SIM Global education offer immense opportunities to gain work exposure of global nature through professional internships in Singapore that help one to enhance your skill sets and fine tune for the challenging career ahead.  SIMs Career services helps one to have a smooth transition from academic life to a career life by helping you identify your core strengths and help you choose an appropriate profession by offering Career coaching ,   workshops   net working events   Job fairs, company visits and global student exchange programs.
Medical insurance cover for all international students
SIM has in place a group medical insurance scheme for all its students with a minimum annual coverage of S$20,000 per students for treatment in government and restructured hospitals and provides for 24 hours coverage in Singapore and overseas In case the student is involved in SIM PL related activities abroad.
SIM Education Singapore   offers supports with regards to financial assistance schemes, counseling services that ensure students overall well being and a holistic education if you are looking for world class education at affordable cost SIM Global education is the answer.  For more information  to  study abroad in Singapore's  SIM Education  Contact  Santa Monica study abroad on  0484-4140999.